16x8 crosspoint switch and frame grabber | Model 609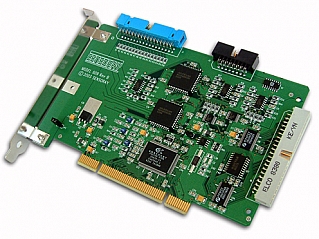 16 composite video inputs, 8 video outputs
Software selectable termination resistors on outputs
Color or monochrome: PAL, SECAM, NTSC, and CCIR 601 compatible
16 digital inputs and 16 outputs
Model 609 is a legacy product and is not recommended for new designs. Legacy products are available but may have lead times up to 12 weeks and minimum order requirements. Use our Product Finder to find a comparable product or contact our Design Support Team.
Description
Model 609 combines the functions of a 16x8 video crosspoint switch and a frame grabber into one standard size PCI board. The board accepts sixteen standard composite TV inputs and routes any eight to the output channels. Four of the selected eight output channels are connected to the inputs of the frame grabber.
The video from any one of these four can be digitized at a real time rate of 30 frames per second with full resolution of 640x480 for NTSC and at 25 frames per second of 768x576 for PAL or SECAM. The 609 uses a FUSION878 (BT-878) decoder.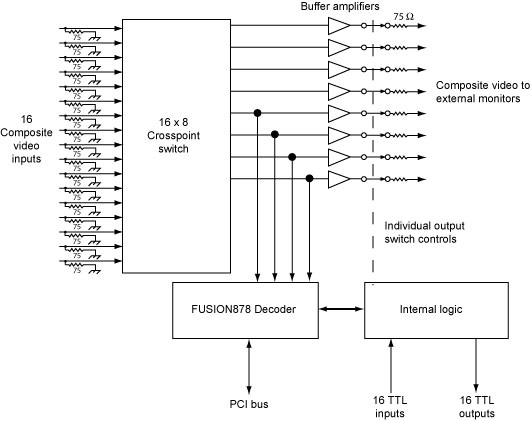 Digital I/O
The 609 has sixteen digital inputs and sixteen outputs (TTL) controlled through software.
Output terminations
When the switch is open, the output is isolated from the load (monitor), which allows the connection of multiple boards in parallel.
Internal signal connections
A thirty-four pin flat cable header is provided for the sixteen video inputs. Model 609 has a 16-pin header for video outputs and a 40-pin header for digital I/O signals.
Multiple Boards
Multiple 609s may be used in the same PCI bus. A 609 and a 611 frame grabber will also function together.
Termination Boxes
Model 609 may be connected to optional termination boxes with flat cables.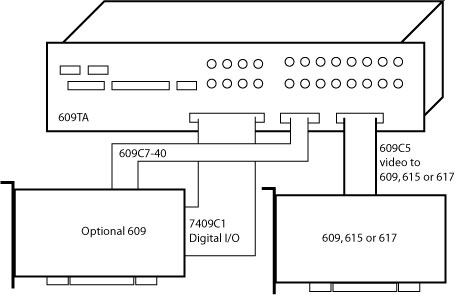 Specifications
Capture rate
30 frames/second (NTSC, RS-170)
25 frames/second (PAL, CCIR, SECAM)
A/D resolution
8 bits luminance, 8 bits chrominance
A/D type
Conexant FUSION-878
Output resolution
768x576 (PAL, CCIR)
640x480 (NTSC, RS-170)
Video signals
16 composite inputs
8 buffered composite outputs
Digital inputs
16 TTL compatible
Digital outputs
16 TTL compatible
Dimensions
(W x H): 8.75 x 4.27 inches; 222 x 108 mm
Pricing & Ordering