Audio/video processing engine | Model 2960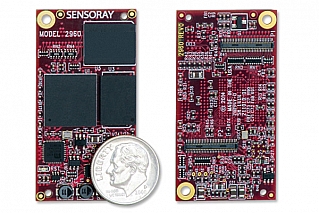 Ultra compact 4.8 x 2.5 cm and lightweight 6.2 g
Captures up to 1920 x 1200 video at 30 fps
Captures JPEG snapshots up to 4096 x 3104
USB port supports device and host modes
Includes 100Mb Ethernet, serial COM, I²C and 6 GPIOs
SD Card interface
Description

Watch the video
Sensoray's 2960 "Dragon" is a compact, lightweight board that serves as a foundational building block for custom designs in HD/SD video and audio processing systems. Packed into its tiny footprint is a powerful audio/video processing engine with controller and stream router, SD card interface, six GPIOs, and USB (device or host mode), Ethernet, serial COM and I²C communication interfaces. It has one input and one output for HD/SD digital video, a stereo digital audio input and output, and a composite NTSC/PAL output.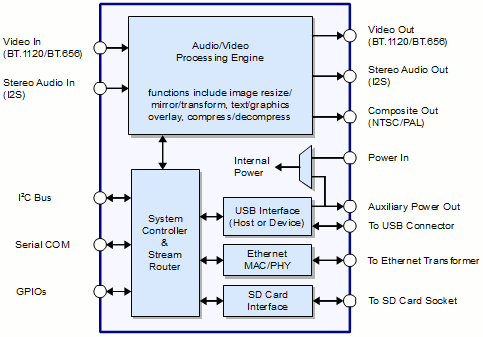 Custom solutions without the NRE
When combined with our proven IP blocks, the Dragon's high performance and versatile architecture enables us to quickly create complex A/V systems. This allows us to deliver fully custom solutions with low or no design fees — even to OEMs with modest volume requirements.
Development process
Based on your requirements, Sensoray will design firmware for the Dragon that implements your desired functionality and a carrier board with the connectors and circuitry you specify and deliver the integrated solution with a flexible API. For higher volumes, Sensoray can integrate the Dragon's circuitry into a custom single board solution to further reduce size, weight and cost. A wide range of functions are available, which can be mixed and matched to provide the exact feature set you need. Popular functions include:
A/V processor functions
Real time text and graphics overlay
Low latency H.264 and JPEG video compression up to 1920x1200p30
High resolution JPEG snapshots
MP4, AVI, transport stream formatting
Dual asymmetric output streams
AAC and G.711 audio compression
Image stabilization
Frame rate decimation
Interlacing/deinterlacing
Video scaling, mirroring and rotation
System controller functions
IP stream server
File server with SD card / USB flash storage
HTTP server
Serial COM bridge
Remote and locally controlled GPIOs
Camera control server
Featured Applications
The 2960 Dragon is more than just a powerful A/V building block used by our customers. As the following examples show, it can also be found at the core of some of Sensoray's most popular standard products.
Miniature HD camera with IP stream server and POE
Sensoray's Model 3011 is a Dragon-based, miniature HD camera with web server, dual H.264 output streams, Power over Ethernet and opto-isolated GPIOs. It captures 1080p video at 30 frames per second as well as JPEG snapshots up to 4096 x 3104 and can switch between these modes on the fly.

The hardware consists of an HD camera, 2960 Dragon board and carrier board. The Dragon snaps directly onto low profile connectors on the carrier. In addition to holding the Dragon, the carrier also provides all application connectors and support components.

Two independent H.264 streams can be output simultaneously if desired. For example, an application could use a high resolution stream for recording and a second, lower resolution stream for sending over a low bandwidth connection. The A/V processing engine splits the input video into two streams, one of which is downsized before further processing. The two streams are then overlaid, compressed to H.264, formatted and sent over Ethernet.
Embeddable DVR
Sensoray's Model 4011 is a compact digital video recorder (DVR) designed for embedded OEM applications. It records audio and video (A/V) to USB storage media and can capture JPEG images on-the-fly without interrupting recording. Its A/V outputs allow live video, recorded A/V or JPEG snapshots to be displayed on an external monitor. Date and time are maintained by a real-time clock with battery backup. To implement a complete embedded DVR simply connect power, your own custom keypad and a USB storage device.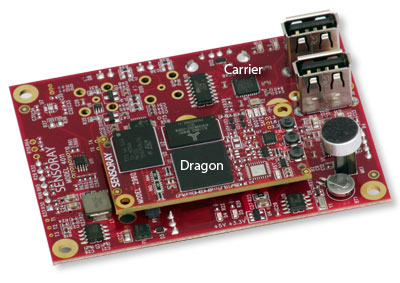 Model 4012 (not shown) has all the features of the Model 4011 plus two incremental encoder interfaces that allow position information to be overlaid on the video.
HD IP Video Server, SDI or DVI compatible
Sensoray's Model 2464 is a compact IP video server that captures, compresses and streams HD video and audio over Ethernet. It can simultaneously produce two output streams (one HD and one SD) with independent resolutions, frame rates, and bit rates, allowing it to be easily tailored to match network capabilities. Real-time text overlay is supported along with popular video processing functions such as interpolation for motion artifact removal, image mirroring and rotation (180°), and frame decimation. Either output stream can be overlaid with additional text/graphics and output as video.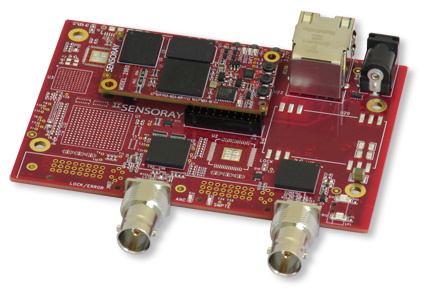 Other Applications
Shown below are several examples of systems that utilize Sensoray's 2960 Dragon board. In all cases the Dragon resides on a carrier board that has application-specific support components (shown in orange) and connectors. In many cases the system footprint can be minimized by locating some or all of the support components beneath the Dragon. Functional blocks such as deinterlacing, motion artifact removal, image rotation and mirroring have been omitted for clarity.
HD overlay engine
In this example a Dragon is combined with a video encoder and decoder to implement a high performance, USB powered, HD graphics and text overlay engine. Note that this overlay engine could also easily convert the HD input to a different format by, for example, using an SDI decoder and a DVI encoder on the carrier board.

HD video server with DVR and Wi-Fi
In some applications, video must be recorded when no stream client is connected. This situation is easily handled by having a Dragon store video on an SD Card and upload the stored video on demand. Recorded and live video can be streamed at the same time if desired. A USB drive can be used in lieu of the SD Card by operating the Dragon's USB interface in host mode.

HD video + audio server with PoE
This A/V server gets its operating power from Ethernet so that only three connections are required. The video (up to 1920x1200p30) is overlaid and then compressed to H.264 while audio is compressed to AAC. The compressed streams are multiplexed using a precision hardware timestamp generator (to ensure perfect A/V sync) and sent over Ethernet as transport stream.

UAV video server with camera control
All UAVs have payload limitations, so the Dragon's compact size, light weight and low power requirements make it ideally suited for UAV-based video capture. This example uses a Dragon to overlay HD video, compress it to H.264 and stream it to a relay satellite. A camera control server allows the camera, gimbal, or both to be remotely operated from ground control. To ensure mechanical integrity in high vibration environments like this, the Dragon provides holes at opposing corners for hold-down fasteners.

Asymmetric dual stream HD video/audio capture
Some applications require a high resolution stream for recording and another lower resolution stream for handheld devices or low bandwidth connections. This example shows how a Dragon can simultaneously provide both of these streams from a single source, with independent overlays, A/V compression types, resolutions, frame rates and bit rates, in a compact USB-powered unit.

Pipeline inspection HD video capture and ROV controller bridge
Low latency is essential when video is used to control pipeline inspection tractors and other remotely operated vehicles. In this application, the Dragon has a point-to-point Ethernet connection (via cable modem) to the client computer that achieves 1080p30 glass-to-glass latency of less than 100 milliseconds. The Dragon also serves as a communication bridge between the computer and tractor controller, eliminating the need for a network switch or additional control channel on the cable. When used with high resolution imagers, the Dragon can switch to JPEG mode on the fly to capture snapshots up to 4096x3104.

Budgetary Pricing
| Quantity | Unit Price |
| --- | --- |
| 100 | $250 |
| 500 | $225 |
| 1000 | $207 |
Budgetary pricing for the Dragon board is listed here as a guide for project planners. Please note that these prices are only budgetary and do not include any extra development or hardware required to integrate the 2960 into higher level assemblies.