Embeddable DVR with integrated microphone | Model 4011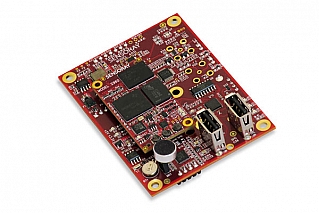 Customizable user interface
Supports simultaneous recording to 2 USB devices
Captures snapshots without video interruption
Wireless operation with external WiFi adapter
Real-time video overlay of date and time
On-board microphone
Clock/calendar with battery backup
Description

Watch the video
Model 4011 is a compact digital video recorder (DVR) designed for embedded OEM applications. It records audio and video (A/V) to USB storage media and can capture JPEG images on-the-fly without interrupting recording. Its A/V outputs allow live video, recorded A/V or JPEG snapshots to be displayed on an external monitor. Date and time are maintained by a real-time clock with battery backup. To implement a complete embedded DVR simply connect power, your own custom keypad and a USB storage device.
Other members of Sensoray's 4000-series embeddable DVRs include Model 4012, which has dual incremental encoder interfaces, and Model 4023 for HD video.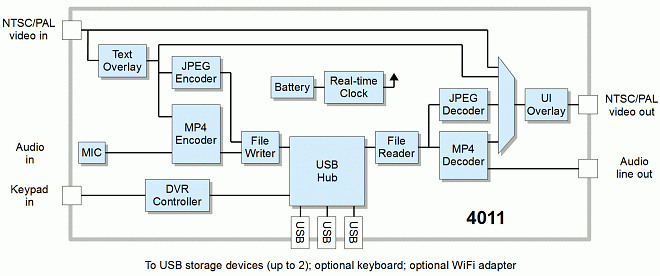 Wi-Fi
To create a wireless DVR, simply plug a USB WiFi adapter into one of the board's USB ports. Sensoray offers approved WiFi adapters for this purpose (see Accessories tab for details). This allows phones, tablets and laptops to view video and control recording and playback, and also enables the DVR to be operated without a monitor or keypad, which saves space and reduces cost.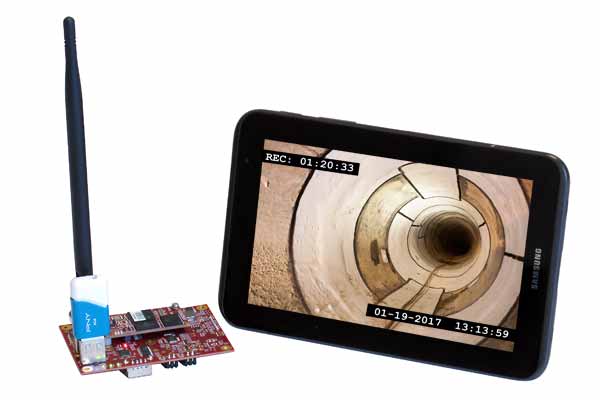 Stream formats
The board encodes standard NTSC/PAL composite video using efficient H.264 compression. Audio from the onboard microphone is digitized and compressed using AAC encoding. The compressed A/V streams are multiplexed and recorded as MP4 files on a user-supplied USB storage device, with file names automatically generated by the real-time clock. Bit rates can be tailored to match application requirements and storage capacity.
Video overlay
The text overlay generator can position the current date and time and user-entered custom text anywhere in the video frame. The date and time text is automatically updated every video frame. Custom text may be entered via a standard USB keyboard (not included).
USB storage
An external USB storage device is required for DVR operation. If desired, a second USB storage device may also be connected and the DVR will simultaneously record to both devices. A common application for this is recording to a removable device while creating an archival copy on a non-removable device. USB connectors are located on both sides of the board to facilitate connection to both removable and embedded storage devices.
User interface
The DVR's user interface consists of a user-supplied keypad working in conjunction with the board's flexible on-screen menu system. Each keypad connector pin can be routed directly to any keypad switch and configured to match the control scheme of your custom keypad. If preferred, a standard keyboard can be plugged into any USB port and used to control the DVR, which allows custom text entry for video overlays.
Evaluation kit
To facilitate rapid development, Sensoray offers 4012DEMOKIT, an evaluation and reference design kit for 4000-series embeddable DVRs. The kit consists of a 4012-MIC DVR and a solid-state keypad, panel-mounted on an open-frame stand, with a power supply and all necessary cables. Setup is quick and easy: connect a camera or other video source, plug in a user-supplied USB flash drive and apply power.
Accessories
USB WiFi Adapters
Model 4011 has been specifically designed to work with the following USB WiFi adapters (Note: other WiFi adapters are not guaranteed to work with Model 4011):
Medium-range Adapter
Model WA0001 is a Wireless N USB adapter with a high-gain, omni-directional 5dBi antenna, and 802.11b/g/n wireless protocols.

Short-range Adapter
Model WA0000 is a wireless USB nano network adapter with 802.11b/g/n wireless protocols.

Specifications
Video
Input
NTSC/PAL, composite, 75 Ω
Output
NTSC/PAL, composite, 75 Ω
Audio
Input
Built-in microphone
Output
Line, stereo
Recorded formats
Resolution
720 x 480 @ 30 fps (NTSC)
720 x 576 @ 25 fps (PAL)
Video compression
H.264, HP @ L3
Video snapshot
JPEG
Audio compression
AAC
Output file format
MP4
Environmental
Keypad interface
9 GPIOs, reconfigurable
Power
12 V DC (± 4 V), 2.5 W
Operating temperature
0 to 50 °C
Mechanical dimensions
3.25 x 2.375 x 0.875 inches
Pricing & Ordering