HD IP video server, SDI or DVI compatible | Model 2464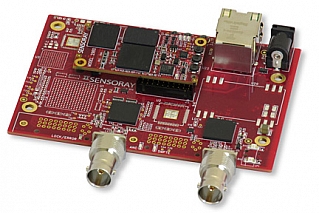 Two independent output streams from one video input
H.264 HP@L3, MJPEG video compression
Supports MPEG-TS, H.264 VES, MJPEG over HTTP
Streams via HTTP, RTP, RTSP, UDP
AAC-LC audio (with optional 3364TA board)
General-purpose RS-232 port
Description
Model 2464 is a compact IP video server that captures, compresses and streams HD video and audio over Ethernet. It can simultaneously produce two output streams (one HD and one SD) with independent resolutions, frame rates, and bit rates, allowing it to be easily tailored to match network capabilities. Real-time text overlay is supported along with popular video processing functions such as interpolation for motion artifact removal, image mirroring and rotation (180°), and frame decimation. Either output stream can be overlaid with additional text/graphics and output as video.
Two versions are available: SDI and DVI. The DVI version also captures VGA, component and composite sources (with appropriate adapters). Both versions include an RS-232 port that can be used for camera control or any other purpose.
Audio can be captured from a microphone or line source using a 3364TA accessory board (not included). Audio may be sent uncompressed, or compressed and multiplexed with compressed video into a transport stream, or both simultaneously.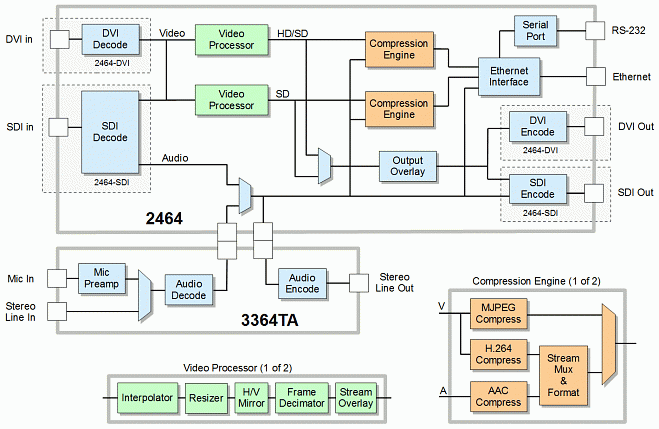 Stream formats
The video processor performs efficient H.264 video compression, producing output data formatted as either transport stream, elementary stream, or RTSP. Alternatively, MJPEG compression can be performed, which is especially useful for capturing high definition snapshots. Audio compression is performed using AAC-LC. The stream multiplexer employs high precision hardware timestamps to ensure perfect A/V sync on players.
Real-time text overlay
The text overlay generators can position up to 160 characters of monochrome text anywhere in the video frame. A unique text string, consisting of mixed constant and variable text, may be defined for each overlay generator. Text variables such as time, date, and frame count are automatically updated every video frame.
User interface
The built-in web server allows device configuration and control, user management, and live stream previewing on any web browser. In automated applications, these functions can be accessed from a remote client through custom software (e.g., Curl, Python, Selenium) or multimedia frameworks such as GStreamer.
Ordering information
Model 2464 is available as a bare board (2464-SDI and 2464-DVI) or as an enclosed unit (2464-SDIS and 2464-DVIS). Enclosed units combine a 2464 bare board and a 3364TA audio accessory board in a robust metal enclosure, thus providing built-in analog audio interfaces. Bare board versions do not include a 3364TA audio accessory board, so a 3364TA must be purchased separately if you require analog audio interfaces.

Specifications
Video & Audio
HD-SDI version
270 Mbps, 1.483 Gbps, 1.485 Gbps
SMPTE 259M(C), SMPTE 292, SMPTE 424M
1920x1080p30 maximum

Video Input/Output, DVI option
Input resolutions/frame rates
(DVI, VGA, component, composite)
720x480i60
720x576i50
1280x720 at p30, p25, p60, p50
1920x1080 at i60, i50, p60, p50, p30, p25, p24
1920x1200p30
1680x1050p30
1600x1200p30, 1600x900p30
1440x900p30, 1360x768p30
1280x1024p60, 1280x960p60, 1280x800p60,
1280x768p60, 1280x720p60
1152x864p60, 1152x648p60
1024x768p85
800x600p85

Output resolutions/frame rates (DVI)
720x480p59.94
720x576p50
1280x720p30
1280x720p50
1280x720p60
1920x1080i50
1920x1080i60
1920x1080p24
1920x1080p25
1920x1080p30
Audio input
Analog line stereo (requires an optional 3364TA board)

Video compression
H.264 (HP@L3), Motion JPEG
Audio compression
AAC-LC, 48 kHz, 32-512 kbps bitrate
Video streaming
Up to 2 video streams with individually configurable compression types, bitrates, resolutions and frame rates. One HD stream (up to 1280x720p60), one SD or lower resolution stream
Output stream formats
MPEG-TS, H.264 VES, MJPEG
Network
Network security
Password protection, digest access authentication, user access log
Network protocols
HTTP, RTP, RTSP, UDP
Alarm triggers
Video loss
Alarm actions
e-mail notification, HTTP, FTP upload
Other
Serial interface
RS-232
Network interface
10/100Base-T(X)
Power
TBD, 5 V DC
Operating temperature
0 to 70 °C
Dimensions
3.9" x 2.8" (without enclosure)
Documentation
File
Version
Type
Size
Technical manuals
Hardware manual
for models 2464 and 3364
1.0.0
PDF
1.64 MB
Pricing & Ordering