Model 3364 | USB 3.0 HD video + audio capture device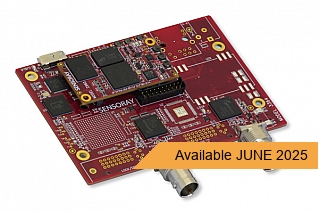 HD/SD video capture from DVI or SDI
Captures uncompressed 1080p60 with very low latency
H.264 HP@L3 / MJPEG video compression
AAC audio compression
Unicode text and graphic overlay
UVC compliant
USB 3.0, bus powered
Description
Model 3364 is a USB 3.0 video capture device available in SDI (3364-SDI) or DVI (3364-DVI) versions. It captures uncompressed HD/SD video in resolutions up to 1080p60 and will overlay and compress resolutions up to 1080p30. It can simultaneously send both compressed and uncompressed video to the host computer. The DVI version also captures component, VGA and composite signals (with appropriate adapters).
Audio can be captured from a microphone or line source using an optional 3364TA accessory board. Audio may be sent uncompressed, or it may be compressed and multiplexed into a transport stream along with compressed video, or both simultaneously.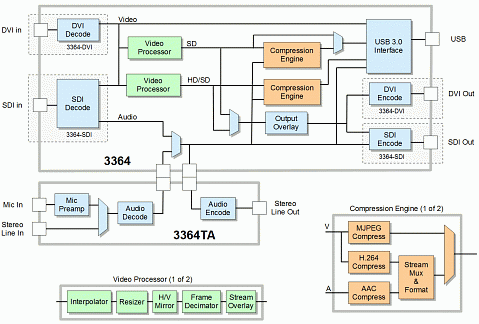 The unit is a UVC (USB Video Class) device, which means it does not require a device-specific driver and can be easily controlled using popular video APIs such as DirectShow and Video4Linux. Sensoray provides Software Development Kits (SDKs) for several operating systems to accelerate application development. Our fully functional demo program illustrates model 3364's capabilities and serves as an excellent starting point for custom designs.
Stream formats
The video processor implements efficient H.264 video compression, producing output data formatted as either MPEG transport stream (MPEG-TS) or in MP4 or AVI file formats. Audio compression is performed using AAC-LC. The stream multiplexer employs high precision hardware timestamps to ensure perfect audio-video sync on players. Snapshot capturing is also supported, with MJPEG compression available for both snapshots and AVI streams.
Output signals
For video resolutions up to 1080p30, the unit can pass through unaltered or downsized video while adding Unicode text and graphical overlays (which may uploaded in real time via USB). Audio pass-through is available with an optional, attached 3364TA board.
Video connectors
The board has one input and one output video connector. Depending on the model number, both connectors are either DVI or SDI. DVI models can capture video from a DVI, VGA or component video source, and output DVI.
Packaging options
Model 3364 is available as a bare board or in a robust metal enclosure, with either two SDI or two DVI connectors.

Specifications
Video Input/Output, SDI option
Data rates
270 Mbps, 1.483 Gbps, 1.485 Gbps

Standards
SMPTE 259M(C), SMPTE 292, SMPTE 424M

Maximum resolution/frame rate
1920x1080p60

Connector type/impedance
BNC, 75 Ohm
Video Input/Output, DVI option
Input resolutions/frame rates
(DVI, VGA, component, composite)
720x480i60
720x576i50
1280x720 at p30, p25, p60, p50
1920x1080 at i60, i50, p60, p50, p30, p25, p24
1920x1200p30
1680x1050p30
1600x1200p30, 1600x900p30
1440x900p30, 1360x768p30
1280x1024p60, 1280x960p60, 1280x800p60,
1280x768p60, 1280x720p60
1152x864p60, 1152x648p60
1024x768p85
800x600p85

Output resolutions/frame rates (DVI)
720x480p59.94
720x576p50
1280x720p30
1280x720p50
1280x720p60
1920x1080i50
1920x1080i60
1920x1080p24
1920x1080p25
1920x1080p30
Connector Type
DVI-I. Component, composite and VGA inputs supported with adapters.

Output video streams
H.264
High Profile @ Level 3 (MP4, AVI, transport stream)
JPEG
single snapshots, AVI
Raw (uncompressed)
UYVY (full resolution at full frame rate available with USB 3.0 hosts only)
Ethernet option
Protocols
HTTP, RTP, RTSP, UDP
Security
Password protection, IP address filtering, digest authentication, user access log
Electrical, mechanical and environmental
Dimensions
71x100 mm (PCB outline, does not include connectors)

Mass
40 g

Operating temperature
0º to 70º C

Interface
USB 3.0, micro-B connector
Connector
USB 3.0 micro B device (socket)
Power
3 W max
Software (Windows and Linux)
Driver
UVC video

SDK
Library wrappers around the DirectShow (Windows) or V4L2 (Linux) API's.

Documentation
File
Version
Type
Size
Technical manuals
Hardware manual
for models 2464 and 3364
1.0.0
PDF
1.64 MB
Software manual
for models 2263, 2464 and 3364
1.1.2
PDF
1.04 MB
Pricing & Ordering