4-channel A/V H.264 encoder/decoder | Model 953-ET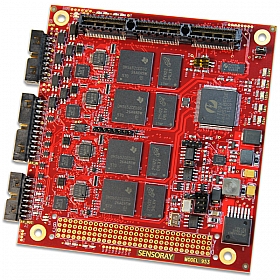 4 NTSC/PAL composite + 4 stereo audio inputs
H.264, MPEG-4, MJPEG, elementary, raw video
AAC, G.711, PCM audio
Low latency video preview
Full duplex encode/decode
Text/graphics overlay
8 optically isolated GPIOs
-40 to +85°C extended temperature range
Description
Model 953-ET is a PCIe/104 full duplex audio/video codec that can simultaneously capture four analog video and four stereo audio inputs. Each of its four identical channels captures NTSC/PAL video at up to full frame rate and encodes it to H.264, MJPEG, or MPEG-4, while capturing and encoding audio to G.711 or AAC. In addition, a low-latency uncompressed video stream is available for high performance previewing on the host computer. Several stream formats are supported: MPEG-TS, MP4, AVI, and elementary. Each channel can also receive streams from the host, decode compressed streams and output the resulting analog audio/video.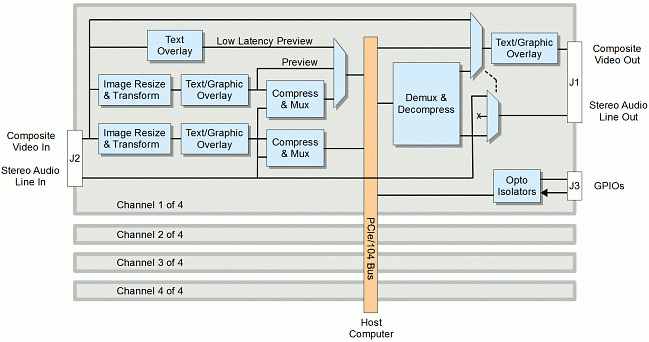 The board fully conforms to the PCIe/104 specification and supports both stack-up and stack-down, allowing it to be positioned anywhere in the board stack. For added convenience, Model 953-ET-PC104 includes a PCI pass-through connector that further enhances stack-ordering options in mixed PCI/104-Express systems. All operating power is obtained from the PCIe/104 bus; no external power supply is needed.
Video capture
Each channel can simultaneously produce two different video streams from the video input and send the streams out over PCIe/104. One of the streams can be a low-latency uncompressed stream (useful for real time previewing) and the other compressed, or both streams may be compressed. Image resolution, compression type, bit rate and other attributes can be independently configured for each stream.
Up to 1024 bytes of application-supplied data may be inserted in the H.264 or MPEG stream, at a specified frame interval or single shot.
Audio sync
Hardware-generated timestamps are employed to keep audio synchronized to the video, thus eliminating "lip sync" problems. MP4 files can be edited in Adobe Premiere Pro with A/V sync preserved.
Digital I/O
Two optically isolated, general purpose digital I/Os are available on each channel (one input, one output). The input is sampled every millisecond and, when a state change is detected, a notification can be sent to the host computer. The input can also be configured to control stream flow without host intervention.
Real-time text overlay
The overlay generators can position up to 160 characters of text anywhere in the video frame. A unique text string, consisting of mixed constant and variable text, may be defined for each overlay generator. Text variables are automatically updated every video frame. Supported variables include time, date, and frame count.
Graphics overlay with unicode text
Overlay images and high quality, styled unicode text (bold, italic, underline, outline and shadow) can be displayed on top of the composite video output, compressed streams, or preview stream (but not low latency preview stream).
Up to 256 full-color overlay regions are supported on the composite output, and up to eight monochrome-only regions are supported on compressed and preview streams (except low latency preview). BMP and PNG image formats are supported, with 24 or 32 bits per pixel and up to eight transparancy levels.
Please note that preview/compressed stream overlays (text or graphics) modify luminance only and consequently may be tinted by background colors. Also, unlike composite output overlays, these overlays are limited in number, size and complexity; see the above right image for an example what is possible.
Stream decoder
Each channel can also perform as a stream decoder, converting a compressed A/V stream into standard analog audio and video signals. Decoding is guaranteed only for streams captured with the 953-ET.
Low latency preview
Model 953-ET supports a low latency preview mode for real-time applications. When capturing in native resolution (704x480 for NTSC or 704x576 for PAL) the overall latency is reduced to approximately 35 ms.
Software
Software Development Kits (SDKs) are available for Linux and Windows. The SDKs include drivers, programming examples and comprehensive documentation to enable programmers to quickly develop custom application software for the 953-ET.
System requirements
Due to the extremely high data rates involved, a computer with sufficient bandwidth and processing power is required to ensure error-free processing of 953-ET video streams. In general, lower-performance computers are suitable for applications that transfer only compressed streams, whereas high performance is required for uncompressed streams, particularly if multiple uncompressed streams will be transferred simultaneously.
To help you determine whether your computer has adequate performance, we recommend that you contact our sales department to obtain a 953-ET evaluation unit.
Qualified computers
Single-board computers (SBCs) are a great way to take advantage of the 953-ET's compact size and advanced capabilities. Sensoray is continually testing new SBCs and listing qualified units at 953-ET Verified Computers.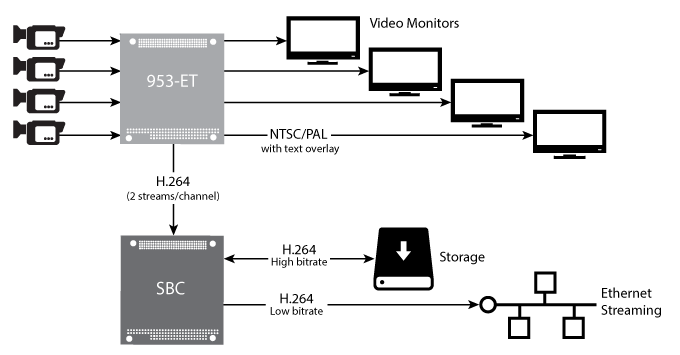 Accessories
Sensoray offers breakout boards that route the 953-ET video and audio signals to standard connectors.
---
Model 953TA-Input provides connectors for four 3.5mm stereo audio inputs and four BNC composite video inputs.
Model 953TA-Output provides connectors for four 3.5mm stereo audio outputs and four BNC composite video outputs.
---
Model 953TA-Output provides connectors for four 3.5mm stereo audio outputs and four BNC composite video outputs.
---
Model 953TAC1 cable connects a Model 953-ET board to the 953TA-Output breakout board. One of its three 16-pin connectors plugs into the 953-ET board, while one or both of the other connectors can be plugged into breakout boards.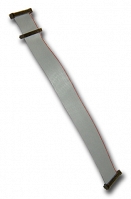 ---
Model 911TAC1 cable connects a Model 953-ET board to the 953TA-Input. One of its three 24-pin connectors plugs into the 953-ET board, while one or both of the other connectors can be plugged into breakout boards.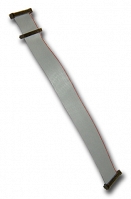 Specifications
Video
Inputs
Channels
4
Formats
NTSC, PAL
Impedance
75 Ω
Outputs
Channels
4
Formats
NTSC, PAL
Impedance
75 Ω
Capture
Frame Rate
30/25 (NTSC/PAL) fps per channel (maximum)
Resolution
Up to D1 (NTSC: 720x480 / PAL: 720x576)
Streams
Compression
H.264 HP@L3, MPEG-4 ASP, MJPEG
Output Formats
Elementary A/V, MPEG-4 program, MJPEG, transport stream
Video Preview
YUV4:2:2, GRAY8, JPEG
Audio
Inputs
Channels
4
Type
Stereo or mono
Signal
Line level
Outputs
Channels
4
Type
Stereo or mono
Signal
Line level
Streams
Sample Rate
48 kHz
Compression
G.711 or AAC
Digital I/O
Inputs
Channels
4, optically isolated
Line Receiver
LED, 1 V @ 5 mA (nominal)
Outputs
Channels
4, optically isolated
Line Driver
Open drain, 20V maximum
Other
System Bus
Compliance
PCIe/104 Specification (Version 1.1)
PCI-Express Base Specification (Revision 1.1)
I/O Connectors
A/V Inputs
24-pin header
A/V Outputs
16-pin header
Digital I/Os
18-pin header
Environmental
Input Power
< 7.5 W (1.5 A @ 5 V)
Operating Temperature
-40 to 85 °C
Mechanical Dimensions
96 x 90 mm (3.775 x 3.55 in.);
Downloads
File
Version
Type
Size
953 Linux SDK
1.2.14
BZ2
5.32 MB
953 Windows SDK
Compatible with Windows 7, 8, 10, XP, and Vista
1.2.30
ZIP
28.84 MB
Other Operating Systems
Need a software development kit for another operating system? We can port our SDK to
your OS or provide the information you need to do it yourself. Contact Sales for details.
Pricing & Ordering