MPEG-2/1 audio/video encoder/decoder | Model 616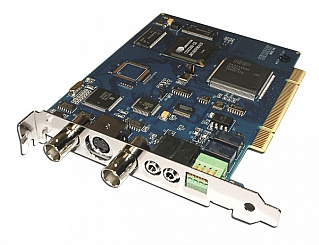 Real time MPEG-1/MPEG-2 encoding/decoding
NTSC/PAL video + stereo audio
Uncompressed preview images
Text overlay
2 TTL inputs, 2 output relays
Description
Model 616 is a PCI frame grabber that captures and transfers full-frame (640x480) video at 30 frames per second. It uses hardware compression to produce encoded MPEG-2 and MPEG-1 data streams of 100 kbits to 10 Mbits per second. It also has two audio input channels that are synchronized to the MPEG data.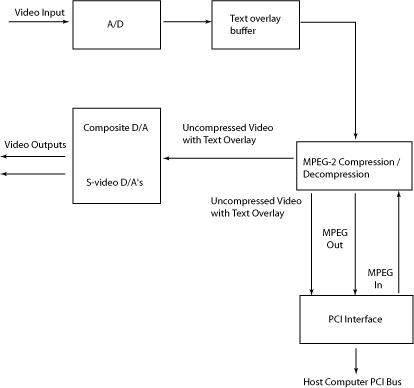 Advantages
MPEG-2 data reduces the amount of memory required to store full-motion video. The compressed data requires a smaller transmission bandwidth. This makes it possible to transmit 30 frames/second video over a 10/100 Base-T Ethernet. The hardware compression circuit uses a motion estimation algorithm to produce smooth images from interlaced cameras. The length of MPEG-2 video streams is not limited by the viewing software.
Real-time viewing
The uncompressed video stream may be displayed in real-time on the host computer's monitor while the MPEG circuit is compressing it. Uncompressed video is sent directly to the graphic adapter's video memory under the control of Video for Linux.
Decompression
Encoded MPEG-2 data can also be decompressed by the 616's hardware to produce composite video and audio. The video output is also available as S-video. The audio output is available at an audio jack on the hold-down bracket.
Digital I/O
Two optically coupled inputs and two relay outputs share a common terminal black on the hold-down bracket. The relay outputs can be configured as normally open or normally closed.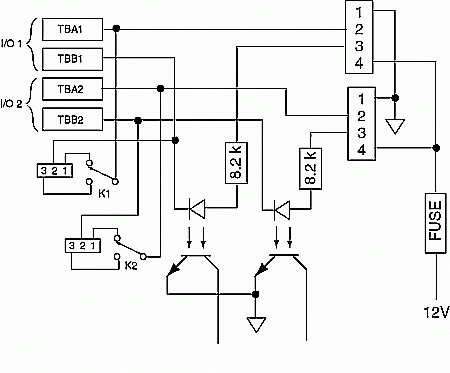 Text caption buffer
A 32-character buffer is available for adding text to each frame. The text is within a transparent box that may be positioned anywhere within the frame.
Self test
Digitized video and audio inputs can be looped back to the output circuits to allow camera and sound adjustments. The 616's video D/A can be programmed to generate color test bars. This is useful for testing the video output channel.
Video outputs
In addition to the MPEG data stream, two types of uncompressed video output are available. The digitized video input may be looped back to the 616's digital-to-analog converter to produce composite and S-video outputs. These analog signals will contain the text in the caption buffer.
The uncompressed images are also available over the PCI bus. The 616's driver can optionally write full-size images directly to the host's video memory. This allows previewing the camera stream while the MPEG stream is recorded to the host's main memory.
Lost video detection
The status of the camera's vertical and horizontal sync signals may be used to detect the presence or absence of the camera signal. The included software allows reading these signals to detect a lost video signal.
Specifications
Power input
3.3 V, 280 mA
Capture rate
30 frames/second (NTSC, RS-170, CCIR)
25 frames/second (PAL)
A/D resolution
8 bits luminance
8 bits chrominance
Input resolution
704x480 (NTSC)
704x576 (PAL)
Output resolution
704x480 (NTSC, RS-170)
768x576 (PAL)
Video input
Composite or S-video
Video output
PAL or NTSC from a BNC connector
Output data
MPEG-2 streaming data
Rates of 100 kbits to 10 Mbits/second
Text overlay
32 characters
616s/computer
3
Audio input and output
±1.0 V
Digital I/O
2 opto inputs
2 relay outputs
Board dimensions
(W x H): 5.5 x 4.2 inches
Bus standard
PCI 2.1
Address mapping
Memory-mapped
Supported streams
Elementary, Program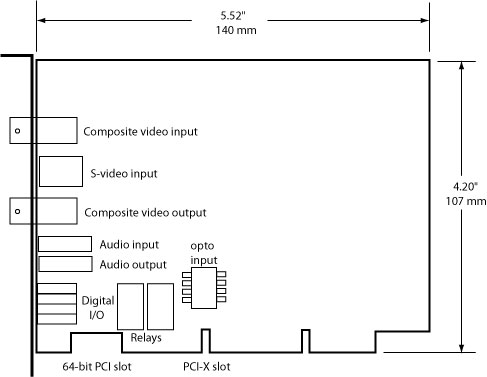 Pricing & Ordering