Streaming video server | Model 2446

Full screen graphic/text overlay with transparency
SDI-HD/SD, SD, DVI video output formats
SDI-HD/SD, SD video input formats
Real time SD video compression
Full resolution snapshots with freeze-frame
Analog pass-through on power loss
19-inch 1U rack mountable
Low latency
Description
Model 2446 is a rack-mountable streaming video server that compresses one HD or SD video input, and one synchronized audio input, into MPEG-1, MPEG-2, or MPEG-4 format and transmits it via transport stream over Ethernet using UDP or RTP protocol. The host computer controls the server over Ethernet.
Four video outputs are available: SDI-HD/SD, DVI, composite, and S-VIDEO. All outputs are available simultaneously.
Audio may be sourced from embedded SDI audio, external audio line in, or external microphone signals. Audio can be output to embedded SDI, line out, MPEG stream, or any combination of these.
Real time hardware compression is performed by Sensoray's model 2246. The encoded video is playable by commercial set top boxes such as the Amino and open source software like VideoLan.
Latency
When operating under appropriate network conditions, the video into the 2446 can be encoded, transmitted, and displayed by a remote network decoder in less than one second.
On-Screen Display (OSD)
Model 2446 supports text and graphic overlays at 16-bit color resolution. Eight overlappable, hardware-managed regions are supported. Each rectangular region may occupy up to full screen size. Any true-type font can be displayed. Graphics can be displayed from standard .bmp files as well as generated on the fly by Sensoray's 2446 API. The API allows graphics to be easily placed and moved anywhere on the screen. Real-time update rates are possible for small overlay regions, while update rates for larger regions vary depending on computer speed and Ethernet activity.
Image processing
The 2446's scan converter guarantees the DVI output will be synchronized to LCD displays. 25 frame-per-second PAL sources will be displayed at the highest LCD refresh rate. Video compression can be done on both HD and SD sources; HD sources are downscaled to SD prior to compression.
Specifications
Power requirements
120 VAC
Dimensions
(W x H x D): 19.00 x 12.00 x 1.75 inches
Video inputs
HDTV
1920 x 1080 SDI
1080i 25/30 fps
Video formats supported
HDTV
SMPTE 295M, SMPTE 274M, SMPTE 296M
SD-SDI
SMPTE 259M
HD-SDI
SMPTE 292M
SDTV
SMPTE 125
SDTV
ITU-R BT 601.5
SDI input specifications
Maximum serial input data rate
1.485 GB/s
Maximum serial input voltage swing
950 mV/p
Input impedance
75 Ω, single-ended
Composite
NTSC
640 x 480, 30 fps, ±1 V/p
PAL
704 x 544, 25 fps, ±1 V/p
S-Video
1.18 V/p (when load is 75 Ω)
Audio
Channels
2 stereo
Analog input voltage
1 V/p
Input resistance
1 kΩ, single-ended
Video outputs
DVI for LCD displays
60 Hz, 1280 x 1024 display supported at all input resolutions
Maximum DVI output voltage
3.475 V
DVI output voltage swing
400 to 600 mV/p
ESD (HBM)
4000 V
Composite
1.25 V/p (when load is 75 Ω)
S-Video
1.18 V/p (when load is 75 Ω)
Maximum SDI Serial output data rate
1.485 GB/s
Maximum SDI Serial output voltage swing
880 mV/p
SDI Output impedance
75 Ω, single-ended
Image processing
Compression types
MPEG-1 320 x 240
MPEG-2 704 x 544
Scaling
1080i/720i to D1 for MPEG compression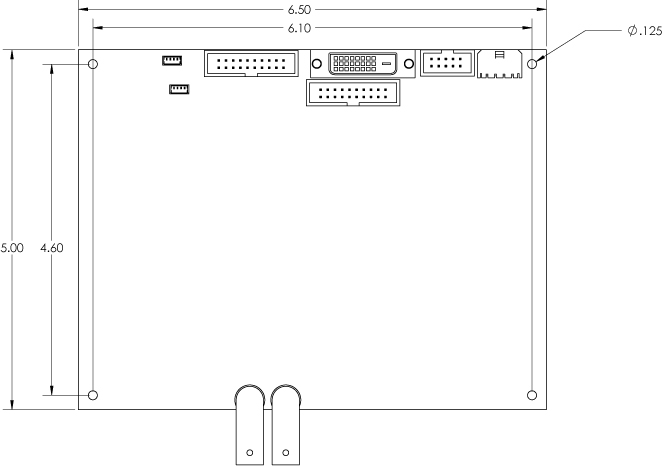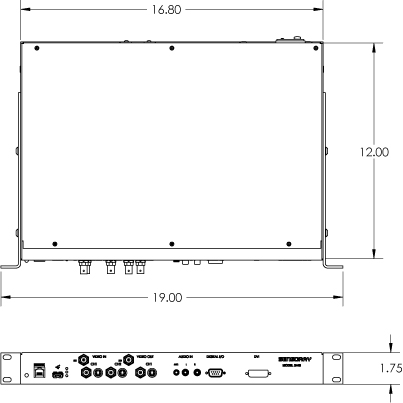 Pricing & Ordering