HD-SDI audio/video H.264 encoder | Model 2224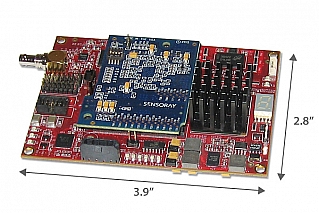 High quality, High Profile H.264 HD/SD encoding
Transport stream format
HD (1080p/1080i, 720p) and SD (NTSC, PAL)
Audio from SDI or external
Audio level meter
Blu-ray compatible
HD/SD uncompressed frame capture
Full screen 16-bit color graphics/text overlays with transparency
Low latency uncompressed preview stream
Small Form Factor
Description
Model 2224 is a USB 2.0 audio/video H.264 MPEG encoder with full screen text/graphics overlay and one SDI input that supports a variety of video resolutions, including 1080p/1080i, 720p and NTSC/PAL. The encoder outputs H.264 High Profile Level 4 for HD and Main Profile Level 3 for SD, multiplexed in MPEG transport stream format. The board's versatile overlay generators, integral HD/SD raw frame grabber, and live preview stream make it ideally suited for a wide range of video processing applications, including High Profile DVRs, NVRs and stream servers.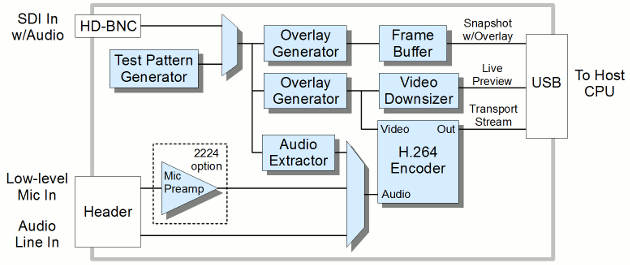 High Profile H.264 Encoding
Broadcast quality video compression is achieved by using High Profile H.264 encoding, which is unavailable in many lower quality encoders that implement only Baseline or Main profiles. Streams recorded from the 2224 can be burned to Blu-ray disks without transcoding.
Audio
Stereo or mono audio may be output to the encoded stream. The audio can be sourced from embedded SDI audio, external line input, or optional on-board microphone preamplifier, which can be directly interfaced to an XLR3 low-level microphone. The board employs special hardware and advanced techniques to keep audio synchronized to video, thereby eliminating the lip sync errors that commonly plague software-based solutions.
Frame Grabber
A frame buffer is provided to capture uncompressed snapshots of individual frames. The frame buffer has a dedicated overlay generator that allows frames to be overlaid prior to capture. Captured snapshots can be sent over USB concurrently with the H.264 transport stream.
Uncompressed Capture
The board can send an uncompressed, down-scaled video stream over USB to enable low-latency video previewing on the host computer with minimal CPU overhead. The uncompressed preview stream can flow over USB concurrently with the H.264 transport stream and a captured snapshot.
Video Overlay
Model 2224 supports text and graphic overlays at 16-bit color resolution with transparency. Any true-type font can be displayed, and graphics can be displayed from standard BMP files as well as generated on the fly by Sensoray's 2224 API, which allows graphics to be easily and quickly placed and moved anywhere on the screen.
Eight overlappable, rectangular, hardware-managed overlay regions are supported. Each region can occupy up to full screen size and may be applied to H.264 and live preview streams, snapshot frame, or both. Real-time update rates are possible for small regions, whereas update rates for large regions may vary depending on computer speed and USB activity.
Specifications
Video
Input Channels
1 SDI HD/SD, HD-BNC connector
Compliance
SMPTE 292M, SMPTE 344M, and SMPTE 259M, ITU-R BT.1120, and ITU-R BT.656
Audio
Input Channels
1 stereo/mono
Input Sources
Ancillary data embedded in SDI input
Stereo line input, ±1.0V
Balanced XLR3 low-level compatible (requires optional mic preamp)
H.264 Encoder
H.264 Conformance
HD: ISO/IEC14496-10 (H.264/AVC) High Profile Level 4.0
SD: ISO/IEC14496-10 (H.264/AVC) Main Profile Level 3.0
Video Resolutions /
Frame Rates /
Bit Rates
HD:
1920x1080p, 24/23.98 Hz, 2Mbps to 17Mbps
1920x1080i, 30/29.97/25 Hz, 2Mbps to 17Mbps
1280x720p, 60/59.94/50/24/23.98, 2Mbps to 17Mbps
SD:
720x480i, 29.97 Hz (NTSC), 1Mbps to 10Mbps
720x576i, 25 Hz (PAL), 1Mbps to 10Mbps
Audio Sampling Rate
48 kHz

Audio Bit Rates
64, 96, 112, 128, 160, 192, 224, 256 kbps
Audio Conformance
MPEG-1 Audio Layer 2
Stream Format
H.264 inside MPEG transport stream
Overlay
Color Resolution
16 bits
Hardware Regions
8 overlappable, up to full screen size. Instantaneous updates via shadow RAM
Video Formats
(H.264 encode)
1920x1080p, 24/23.98 Hz
1920x1080i, 30/29.97/25 Hz
1280x720p, 60/59.94/50
720x480i, 29.97 Hz (NTSC)
720x576i, 25 Hz (PAL)
Video Formats
(live preview and snapshots)
1920x1080p, 30/29.97/24/23.98 Hz
1920x1080i, 30/29.97/25 Hz
1280x720p, 60/59.94/50
720x480i, 29.97 Hz (NTSC)
720x576i, 25 Hz (PAL)
Other
Host Interface
USB 2.0
Power
5W, +5V @ 1A
Operating Temperature
0 to 70°C
Mechanical Dimensions
Pico-ITX: 3.9 x 2.8 inches (10 x 7.2 cm)
Pricing & Ordering