8-channel low power smart sensor interface | Model 7429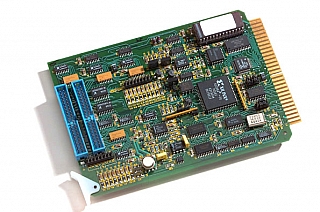 Measures thermocouple, RTD, strain gage, voltage, 4-20 mA, thermistor, and resistance
8 sensor channels with differential inputs
Provides excitation to passive sensors
Pulsed sensor excitation minimizes sensor self-heating
Cold-junction compensation for thermocouples
Each channel configurable for any supported sensor type
Fully electronic calibration
Ultra low power
Model 7429 is a legacy product and is not recommended for new designs. Legacy products are available but may have lead times up to 12 weeks and minimum order requirements. Use our Product Finder to find a comparable product or contact our Design Support Team.
Description
The Sensoray Model 7429 Smart A/D offers a cost-effective way to acquire sensor data for any STD bus system. It features 16-bit resolution from eight input channels, each individually programmable for a different sensor type. Analog-to-digital conversion is performed in under 22 milliseconds, providing a 45 channel per second scan rate.
The 7429 board plugs directly into any STD bus slot. Linearization, calibration, and sensitivity are software programmable, eliminating trim potentiometers and the need for board access. Sensor field wiring is accomplished with a 40-conductor flat cable and remotely mountable screw-termination board, either Model 7409TB or Model 7409DIN with DIN rail mounting hardware.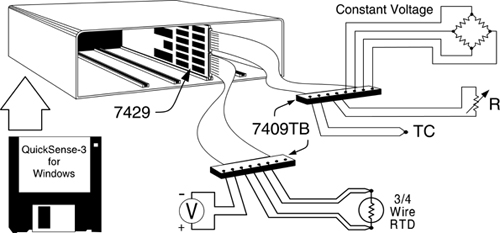 Calibration
The 7429 automatically self-calibrates by measuring internal references. Reference data is stored in an EEPROM so that boards may be easily interchanged. Signal conditioning is provided for thermistors, RTDs, thermocouples, strain and pressure, resistance and voltage inputs. Standard correction for non-linear sensors is built in. Custom compensation can be downloaded.
Excitation
A pulsed constant-voltage source is provided for strain and pressure sensors. A pulsed constant-current source is provided for resistive sensors. Lead loss errors from RTDs, thermistors, and resistors are eliminated with the use of four-wire circuits. An on-board microprocessor continually scans the active sensor channels. Each channel is amplified, digitized, filtered, converted to engineering units, and stored in on-board memory independent of host CPU activity.
Low power mode
In the "awake" mode, power dissipation is just 650 mW. Sending a powerdown command puts the board in a low power standby state. The board is awakened by a software command.
Extended temperature
The use of integrated circuits rated at -40 to 85 °C or better allows the 7429 to operate down to -40 °C.
Specifications
Input resistance
100 MΩ
Maximum input voltage
63 VAC rms
CMMR
95 db/min
Maximum command mode
±5 V
A/D converter
16-bit integrating
Conversion time
22 ms/channel
A/D scan rate
45 samples/second
Operating temperature
-40 to 85 °C
Interface
STD 80
Input power
5 V (at 100 mA)
12 V (at 45 mA)
Sensor Types
Thermocouples
J, K, T, S, E, B, N, C, R
Platinum RTD
100 Ω, types 385 and 392
Nickel RTD
120, 200, 1000 Ω
Copper
10 Ω
Thermistors
10000 Ω, YSI type 44006 or 44031
Strain gauges
120 to 4000 Ω
Sensor
Resolution
Range
Thermocouples
0.1 °C
-270 to 1760 °C
Thermistors
0.01 °C
-55 to 145 °C
Resistors
0.02 Ω
0.125 Ω
31 Ω
0 to 400 Ω
0 to 3 kΩ
0 to 600 kΩ
RTDs
0.05 °C
0.0125 °C
-200 to 800 °C
0 to 400 °C
Strain/pressure
5 µV
±100 mV
DC voltage
5 µV
20 µV
200 µV
±100 mV
±500 mV
±5 V
Downloads
File
Version
Type
Size
Smart A/D Software Development Kit
1.0.2
ZIP
243 KB
Other Operating Systems
Need a software development kit for another operating system? We can port our SDK to
your OS or provide the information you need to do it yourself. Contact Sales for details.
Pricing & Ordering