8-channel analog output board | Model 7405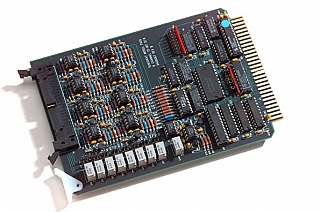 Eight 12-bit analog outputs
Channels independently configurable for +10V / 4-20mA
Outputs automatically reset to 0 volts or 4 mA
0-5V / 0-10V output options
Model 7405 is a legacy product and is not recommended for new designs. Legacy products are available but may have lead times up to 12 weeks and minimum order requirements. Use our Product Finder to find a comparable product or contact our Design Support Team.
Description
Model 7405 is an STDbus board that generates eight analog outputs. Each output channel may be independently configured for either voltage or current output mode. In both modes, output amplitude is a linear function of the programmed digital value.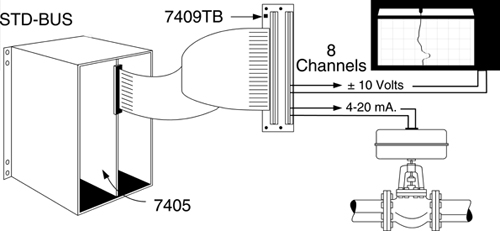 Voltage output
When programmed for voltage out, a channel will generate an output between -10 volts and +10 volts. Full scale output ranges of 0 to 5 volts and 0 to 10 volts are available as factory programmed options.
4-20 mA
Configuring a channel for current output allows driving a 4-20 mA current loop. In this mode, a channel varies its output voltage in order to maintain a constant output current.
Reset
In response to a reset, all channels are automatically reset to the appropriate zero-output condition. Voltage-mode channels are initialized to zero volts and current-mode channels are initialized to 4 mA out.
Termination
Output channels are accessible at a 40-pin header at the edge of the 7405 circuit board. Convenient screw terminal breakout boards are available to simplify field wiring.
I/O ports
The 7405 occupies two consecutive addresses in the STD bus 8-bit address space. The base address may be jumper-programmed to any even address.
Termination boards
Sensoray offers a variety of breakout boards that convert flat cable connections to screw terminals.
Model 7409TB is a low cost 2x4.6 inch terminal board with a 40-pin flat cable connector on its backside to facilitate panel mounting. Field wiring is made on the front side.
Model 7409TC is a 3.8x5.4 inch terminal board with eight removable terminal blocks, one for each output channel. It has a prototype area for constructing custom circuits.
Model 7409TDIN consists of a 7409TC supplied with snap-rails for DIN rail mounting.
Specifications
Input power, excluding output drive current
12 to 15 VDC (at 30 mA)
5 VDC (at 40 mA)
Operating temperature
-25 to 85 &degC
DAC resolution
12 bits
Channel update rate
10 kHz/channel
Output linearity
0.03%
Output modes
Voltage output: +10 V
Current output: 4 to 20 mA
Special outputs modes configured at factory
0 to 5 V
0 to 10 V
Downloads
File
Version
Type
Size
Model 7405 DLL (32-bit)
1.0.0
ZIP
69 KB
Other Operating Systems
Need a software development kit for another operating system? We can port our SDK to
your OS or provide the information you need to do it yourself. Contact Sales for details.
Pricing & Ordering