Traffic-monitoring frame grabber | Model 617-4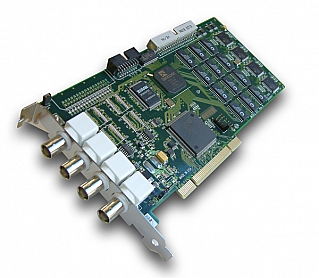 30 fps at 640x480 resolution (25 fps for PAL)
120 fps at 320x240 resolution (100 fps for PAL)
4 video inputs, 4 real-time outputs, 32 digital I/O
Hardware JPEG compression of NTSC, PAL, SECAM
Text overlay buffer for frame annotation
Uncompressed frames available for external motion detection
Model 617-4 is obsolete. This archived information is provided as a courtesy to customers who own model 617-4 units.
Description
Model 617-4 combines the functions of a frame grabber, hardware JPEG compression and digital I/O into one PCI board. The 617-4 accepts four composite video inputs and routes them to separate video decoders for digitizing. The use of four decoders eliminates losing frames during channel switching.
Frame rates
The 617-4's JPEG compression engine has an aggregate capture rate of 30 fps at 640x480 resolution (25 for PAL), resulting in 7.5 fps per channel when all channels are used. At 320x240 resolution, the aggregate capture rate is 120 fps (100 for PAL), or 30 fps per channel when all channels are used.
Hardware compression
Model 617-4 executes hardware JPEG compression to greatly reduce the amount of memory needed to store images. Hardware compression reduces the CPU and PCI bus loading.
Multiple boards
Sensoray's software supports multiple 617-4s in the same PCI bus. For example, two models of the 617-4 may be used to expand the number of video inputs to eight.
Real-time outputs
Four video inputs are routed to four output channels for display on video monitors. A software-selectable switch after each buffer amplifier allows multiple 617-4 frame grabbers to share the same video monitor.
Text overlay
The caption buffer of the 617-4 allows overlaying text on each frame. The text is within a transparent box that may be positioned in one of 4 possible locations of the frame. The text size and color are programmable.
Special output
The model 617-4 also supplies small-size uncompressed frames suitable for motion detection by the host computer. These are 128x96 or 256x192 pixels.
Specifications
Capture & JPEG rate
30 fps NTSC at 640x480 NTSC (25 fps for PAL)
120 fps NTSC at 320x240 NTSC (100 fps for PAL)
Video inputs
8 bits luminance, 8 bits chrominance
Video outputs
4 composite inputs, 75 Ω
Hardware compression
JPEG
Caption buffer
64 bytes
Digital inputs
32 bits of TTL-compatible programmable inputs/outputs
Pricing & Ordering