4-channel RTD/Load Cell Interface Module | Model 2612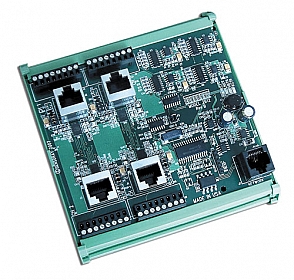 Interfaces 4 load cells / RTDs to Ethernet
Simultaneous measurement of four sensors
6- or 4-wire connections for high precision
200 nV resolution at 6 samples/s
Directly connects to field wiring
Connects to Ethernet through 2601
DIN-3 rail mountable
Description
Model 2612 is a modular, four-channel resistive sensor interface that connects to Ethernet through a model 2601 communication module. It has four sensor input channels that can measure any combination of strain/pressure gauges, RTDs, and other passive resistive sensors with 24-bit accuracy. The module is a member of the 2600 series of smart I/O modules.
Analog Inputs
All measurements are made differentially to reduce common mode noise. Each channel has bridge excitation outputs with remote voltage sensing, enabling 6-wire measurements for the highest possible accuracy. RTD temperature sensors with alphas of 385 or 392 are supported, as well as other resistive devices, by integrating them into full bridge circuits. External bridge completion resistors can be easily added to the module's terminal block. Field wiring is connected directly to the 2612 via removable terminal blocks — no external termination systems are needed.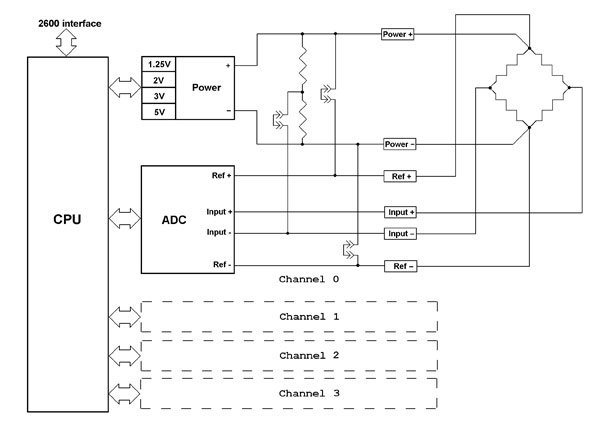 Calibration
The 2612 maintains high accuracy by periodically sampling on-board references and using the acquired samples to correct subsequent sensor measurements. Factory calibration constants are stored in non-volatile memory so that 2612 modules can be easily installed and replaced.
Modular System
The 2612 can be connected to any of the sixteen IOM (I/O module) ports on the 2601 with a low-cost category-5 patch cable, which conveys all required operating power and communication signals. All inter-module communication circuits are optically isolated to prevent potentially disruptive ground loops.
Specifications
Analog Inputs
Resolution
24 bits
Input channels
4
Conversion rate
6.875 to 3500 samples/second for each channel
Input range
±1/2 of reference
Input impedance
110 kΩ
Power Outputs
Output channels
4
Output power
1.25 V, 2 V, 3 V or 5 V, ±10% at 1 to 25 mA for each channel.
Mating Connectors
IOM port (qty 1)
RJ-45 plug, AMP 554169 or equivalent
Analog inputs (qty 4)
RJ-45 plug, AMP 554169 or equivalent
Pluggable TB, 8-pin, RIA 31166108 or equivalent (included with module)
Temperature
Operating range
0 to 70 °C
Power
Input power
±24 V, ±5% at 60 mA.
Mechanical
Outer dimensions
5.0H x 5.0W x 1.8D inches, including DIN mounting frame.
Depth is specified with respect to surface of DIN rail support panel.
Additional clearance required for field wiring.
Downloads
File
Version
Type
Size
2600 Software Development Kit
For Linux and Windows
1.1.14
ZIP
1.58 MB
2600 Labview Drivers
1.0.0
ZIP
542 KB
Other Operating Systems
Need a software development kit for another operating system? We can port our SDK to
your OS or provide the information you need to do it yourself. Contact Sales for details.