Analog I/O Module | Model 2608
Interfaces analog I/O signals to Ethernet
Sixteen 16-bit differential analog inputs
Up to eight 15-bit analog outputs with remote sense
Measures voltage, thermocouple, and 4-20 mA
Integral cold-junction compensation for thermocouples
Fully electronic calibration
Directly connects to field wiring
Connects to Ethernet through 2601 I/O system hub
DIN-3 rail mountable
Description
Model 2608 is an analog I/O module that connects to Ethernet through a 2601 communication module. It has sixteen differential analog inputs and 0, 4, or 8 (model 2608-0, 2608-4, 2608-8) single-ended analog outputs. It is a member of the 2600 series of smart I/O modules.
Analog Inputs
Each analog input may be independently configured to measure voltage, thermocouple, or 4-20 mA current loop. The module has built-in 500 ohm resistors for current loop measurements, and cold-junction compensation sensors for thermocouple measurements. Dedicated input channels are used for cold-junction compensation sensors so that all sixteen external inputs will remain available for application use.
All analog inputs are fully differential so that common mode noise will be reduced or eliminated from measurements. Field wiring is connected directly to the 2608 through removable terminal blocks—no external breakout boards are needed.
Modular System
The 2608 can be connected to any of the sixteen IOM (I/O module) ports on the 2601 with a low-cost category-5 patch cable, which provides all operating power and communication signals needed by the 2608. All inter-module communication circuits are optically isolated to prevent potentially disruptive ground loops.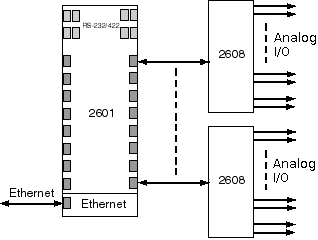 Specifications
Analog inputs
Channels
16 differential
Resolution
16 bits
Input ranges
±10 V, ±100 mV
Conversion Time
500 samples/second for each channel
Accuracy
6.1 µV (10 V range), 60.1 µV (100 mV range)
CMV range
±10 V
Thermocouple Resolution
Analog Outputs
Channels
0 (2608-0)
4 (2608-4)
8 (2608-8)
Resolution
15 bits
Output voltage range
±10 V
Output current
2 mA, max
Power and Environmental
Power input
24 VDC, 80mA
Operating temperature
0 to 70 °C
Mechanical dimensions
(W x H x D): 8.62 x 4.87 x 2.62 inches; 219 x 124 x 67 mm
Downloads
File
Version
Type
Size
2600 Software Development Kit
For Linux and Windows
1.1.14
ZIP
1.58 MB
2600 Labview Drivers
1.0.0
ZIP
542 KB
Other Operating Systems
Need a software development kit for another operating system? We can port our SDK to
your OS or provide the information you need to do it yourself. Contact Sales for details.