I/O Communication Module | Model 2601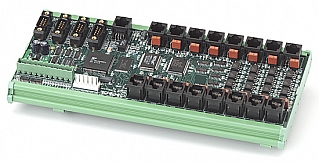 Ethernet gateway for 2600 series I/O modules
Four COM ports for remote serial devices
Supports up to 16 I/O modules in any combination
Integrated safety interlock circuitry
Fast boot time: ~1 second
DIN rail mountable
Description

Watch the video
Model 2601 is a communication hub for the 2600 series of I/O modules. It employs a standard Ethernet interface, enabling simultaneous access to the I/O system by up to four network clients. An embedded, high performance UDP/IP stack works together with a lightweight error recovery protocol to guarantee reliable packet delivery without the overhead of TCP. The embedded real-time operating system and application firmware boots up in approximately one second.
Up to sixteen I/O modules, in any combination of types, can be connected to the 2601. When multiple I/O modules are connected to a 2601, it is possible for hundreds of I/O points to be monitored and controlled through a single Ethernet connection. Larger data acquisition and control systems can be built using several 2601 modules and an Ethernet switch.
Low-cost, optically isolated data links are used to communicate with I/O modules. This reduces cost by making it unnecessary for each I/O module to have an expensive Ethernet circuit. Optical isolation helps to eliminate problematic ground loops that can diminish operational reliability and cause equipment damage.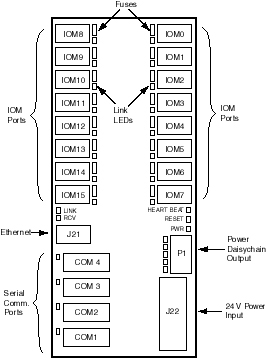 Serial Ports
Four general-purpose serial ports are provided to enable network clients to monitor and control devices such as bar code scanners and motor controllers. Each port is independently configurable for RS-232, RS-422 or RS-485 operation, with standard data rates up to 115.2 Kbaud.
Interlock Circuits
Integral support is provided for up to five independent interlock or emergency stop circuits. An innovative routing system allows interlock signals to be directly connected to the 2601, which in turn distributes the signals to its I/O modules. This makes it possible to achieve fail-safe operation without the complex wiring and external terminal blocks typically required for interlocks. The 2601 monitors the interlock signals and can report their status to Ethernet clients.
Cables
Each I/O module connects to the 2601 with a standard Category-5 patch cable. This cable delivers power to the I/O module and it carries the optically-isolated communications between the 2601 and I/O module. Some I/O modules (e.g., model 2652 eight-channel Solid State Relay module) also require a 2600C1 daisy-chain power cable for interlock circuit connections.
Modular System
A wide variety of I/O modules are available in the 2600 series. Each module type provides an abundant amount of a specific, feature-rich class of I/O. For example:
Model 2608 measures voltage and thermocouples and has up to eight analog outputs.
Model 2610 has 48 general purpose digital I/Os with debounced inputs and PWM output capability.
Model 2653 interfaces sixteen solid state relays, with built-in interlock support.
Specifications
I/O Module (IOM) Interfaces
Number
16
Fuse
Socketed, 500 mA, per IOM
Serial COM
Number, type
4, full duplex
Physical layer
RS-232 / RS-422 / RS-485, selectable per port
Baud rate
300 to 115.2 kbits/s
Ethernet
Ethernet
100BaseTx, 10BaseT
Protocols
IP, UDP, ICMP, ARP
Commands/sec
Up to 1000
Power and Environmental
Input power
24 VDC, 130 mA (not including IOMs)
Operating temperature
-20 to 70 °C
Mechanical
Dimensions
(W x H x D): 10.125 x 4.87 x 1.5 inches; 257 x 124 x 38 mm
DIN rails
35 mm
Downloads
File
Version
Type
Size
2600 Software Development Kit
For Linux and Windows
1.1.14
ZIP
1.58 MB
2600 Labview Drivers
1.0.0
ZIP
542 KB
Other Operating Systems
Need a software development kit for another operating system? We can port our SDK to
your OS or provide the information you need to do it yourself. Contact Sales for details.