8/16-channel smart sensor interface | Model 2518DIN/2519DIN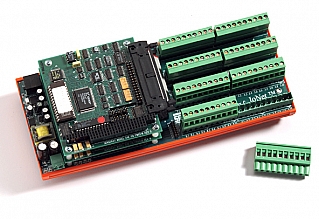 Interfaces 8 or 16 sensors to Ethernet
Measures thermocouple, RTD, strain gage, thermistor, resistance, and voltage
Provides excitation for passive sensors
Linearizes sensor data and converts to engineering units
Cold-junction compensation for thermocouples
Screw terminals for direct field wiring connections
Single supply operation
Model 2518DIN/2519DIN is a legacy product and is not recommended for new designs. Legacy products are available but may have lead times up to 12 weeks and minimum order requirements. Use our Product Finder to find a comparable product or contact our Design Support Team.
Description
Models 2518DIN and 2519DIN are low cost-per-channel Ethernet interfaces for measuring voltage, resistance, and thermocouple, RTD, thermistor, and strain gauge sensors. They provide excitation for passive sensors and feature 16-bit resolution from either eight (2518) or sixteen (2519) differential input channels, each individually programmable for a different sensor type.
The entire acquisition process — sensor excitation, analog-to-digital conversion, cold-junction compensation, linearization, and conversion to engineering units (e.g., V, °C) — is performed in under 22 milliseconds per channel for each group of eight channels. Model 2519DIN has two A/D converters that concurrently process two groups of eight channels for higher throughput. Sensor data is acquired continuously and stored in on-board memory so that the host computer can access it without waiting for conversions.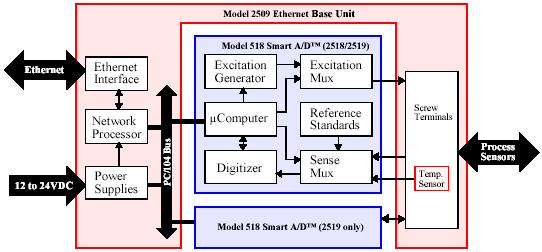 Calibration
Models 2518DIN and 2519DIN periodically sample precision internal references and use the acquired samples to compensate offset and gain drift. Reference data is factory calibrated and stored in non-volatile memory so boards can be easily installed and interchanged. The boards employ fully electronic calibration to eliminate mechanical trimpots and the need for physical board access.
Ethernet
The unit can process over 1500 UDP-based messages per second over 10Base-T Ethernet. The three high-order IP address bytes must be specified upon ordering from Sensoray. For example, if the unit is to operate at 192.168.2.x, specify "192.168.2" when ordering. The fourth, "x" byte is field-programmable via shunts.
Field Wiring
Sensor wires directly connect to removable terminal blocks that are supplied with the unit — no external breakout boards are required. Each sensor channel has five conductors: two for sensor power, two for voltage measurement and one for a shield.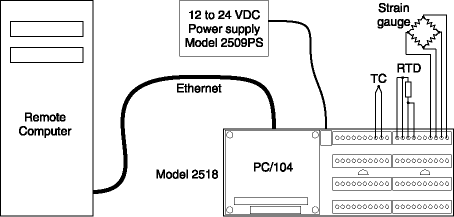 Mechanical
The 2518DIN/2519DIN modules mount directly onto standard DIN rails.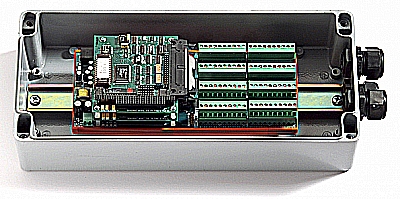 Power Supply
Several optional line-operated power supplies are available.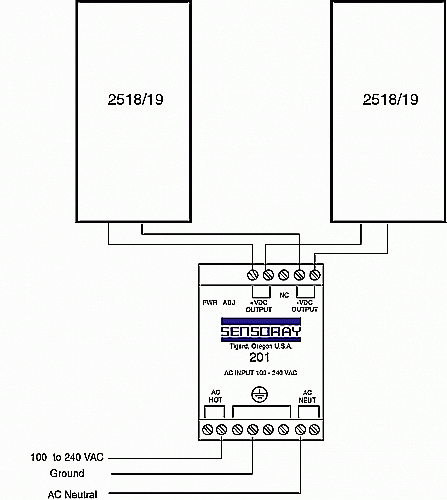 Specifications
Analog Inputs
Number of channels
Model 2518: 8 channels
Model 2519: 16 channels
ADC resolution, type
16-bit, integrating
Conversion time
22 ms/channel
A/D scan rate
45 samples/second
Input resistance
1000 MΩ
CMMR (min)
95 db
CMV (max)
±5 V
Ethernet
Physical layer
10Base-T
Transactions/second
1600
Connector type
RJ-45
Environmental
Operating temperature
-25 to +85 °C
Input power
12-30 V AC/DC
Dimensions
(W x H x D): 9.42 x 3.80 x 1.87 inches
Sensor Types
Thermocouples
J, K, T, S, E, B, N, C, R
Platinum RTD
100 Ω, types 385 and 392
Nickel RTD
120, 200, 1000 Ω
Copper
10 Ω
Thermistors
10000 Ω, YSI types 44006 or 44031
Strain gauges
120 to 4000 Ω
Sensor
Resolution
Range
Thermocouples
0.1 °C
-270 to 1760 °C
Thermistors
0.01 °C
-55 to 145 °C
Resistors
0.02 Ω
0.125 Ω
31 Ω
0 to 400 Ω
0 to 3 kΩ
0 to 600 kΩ
RTDs
0.05 °C
0.0125 °C
-200 to 800 °C
0 to 400 °C
Strain/Pressure
5 µV
±100 mV
DC voltage
5 µV
20 µV
200 µV
±100 mV
±500 mV
±5 V
Downloads
File
Version
Type
Size
Smart A/D Software Development Kit
1.0.2
ZIP
243 KB
Other Operating Systems
Need a software development kit for another operating system? We can port our SDK to
your OS or provide the information you need to do it yourself. Contact Sales for details.
Pricing & Ordering