HD-SDI switcher - 4x4 3G-SDI matrix switcher with Ethernet | Model 2444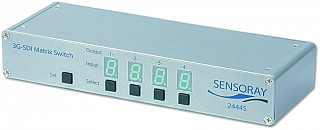 4x4 crosspoint switcher
Data rates from 270 Mbps to 2.97 Gbps
Supports SMPTE 259M(C) (SD-SDI), 292M (single-link HD-SDI), and 424M (3G-SDI)
Automatic reclocking and equalization
Control via front panel, Ethernet or RS-422/RS-485
Compact size, low power
Description
Model 2444 is a rugged and compact, 4x4 matrix (crosspoint) switcher that can simultaneously connect each of its four outputs to any of its four inputs. It supports all single-link SDI standards: SMPTE 259M(C) (SD-SDI), 292M (single-link HD-SDI), and 424M (3G-SDI). Four seven-segment LED displays provide indication of the switch states, as well as signal status of the video inputs.
Simple and flexible control
The unit can be controlled manually through its intuitive front panel console, or with a computer through its Ethernet or serial communications interfaces. A built-in web server allows the unit to be controlled from any web browser, and its integral telnet server enables it to be easily controlled by a remote, automated client over a network.
Applications
The versatile switching fabric provided by Model 2444 can be used in a number of ways. For example, one input can be routed to two or more outputs to implement a video splitter. The unit can also be used to select alternate video sources on the fly in video editing applications and small broadcast studios.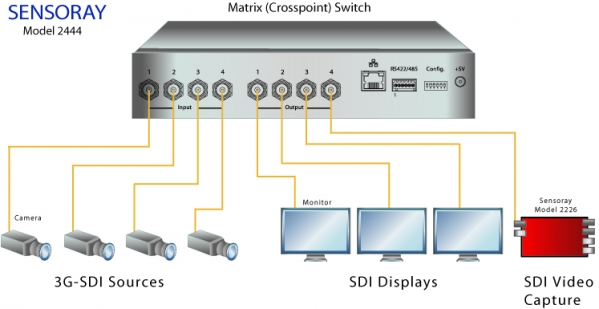 Specifications
Video
Matrix
4x4 (4 inputs, 4 outputs)
Data rates
270 Mbps, 1.483 Gbps, 1.485 Gbps, 2.967 Gbps, 2.97 Gbps
Standards
SMPTE 259M(C), SMPTE 292M, SMPTE 424M
Impedance
75 Ω, input and output
Equalized input cable length (maximum)
270 Mbps
400 meters
1.485 Gbps
200 meters
2.97 Gbps
110 meters
Communication
Ethernet
Data rates
10Base-T, 100Base-TX
Protocols
HTTP, Telnet
Serial Interface
Operating mode
9600 baud, no parity, 8 data bits, 1 stop bit
Physical layer
RS-422, RS-485
Protocol
Telnet
Other
Mechanical
Dimension
(W x H x D): 10.0 x 1.72 x 4.4 inches
Weight
600 g
Power
Nominal input power
8 W (5 VDC)
Environmental
Operating temperature
0 to 50 °C
Pricing & Ordering