JPEG still image video server | Model 2411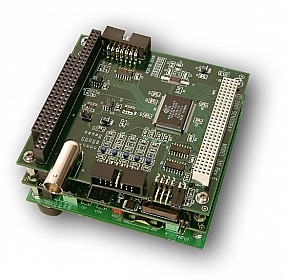 Captures still images upon hardware or software triggers
Stores single video frames on Compact Flash and/or internal hard drive
JPEG utility compresses images to save storage space and speed uploads
Uploads images via Ethernet
Includes embedded Linux
Model 2411 is a legacy product and is not recommended for new designs. Legacy products are available but may have lead times up to 12 weeks and minimum order requirements. We recommend model 2453 as a substitute for this product.
Description
Model 2411 is a turnkey PC/104+ board stack that captures individual still frames from a video input, converts the frames to JPEG, and delivers them over Ethernet to a remote computer.
Image compression
A JPEG compression function allows efficient use of internal storage and speeds the download of stored images. Typical compression factors of 20:1 yield good quality images.
Image capture
Images are captured with Sensoray's 311 frame grabber that uses the popular BT-878A capture chip. The 311's four-channel multiplexer allows selecting any one of four composite inputs or one S-video input and three composite signals. One of the 311's general-purpose digital I/O lines has been programmed to initiate a frame capture upon detecting a contact closure from an external switch.
Image storage
Captured frames are initially stored in the CPU's RAM, after which they may be transferred to a RAM disk or to an optional CompactFlash or hard drive. The optional storage requires the addition of Sensoray's model 340 CardBus adapter.

FTP server
Model 2411 is programmed with an FTP server to facilitate image transfers to a remote computer. The FTP server may also be used to download custom application programs. The server is accessible from a command line or from any standard web browser.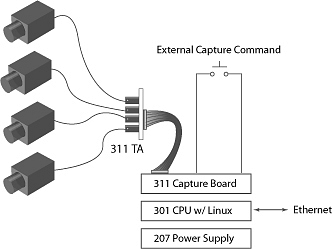 Linux OS
The 2411 uses an abbreviated form of Suse Linux. The OS resides in a flash memory chip soldered to the CPU. Approximately 6 MB is available for user applications. The 2411 is not available with other operating systems or other compiled Linux kernels.
Unused resources
Sensoray's model 2411 has some unsupported communication ports. The basic unit, model 2411-1, has one unused serial port. Adding model 340 to the stack for models 2411-2, 2411-3 and 2411-4 adds two unsupported USB 1.1 ports plus an additional 10/100 BaseT network port. Although these resources are not supported by the 2411, Linux drivers are available at the model 340 web page.
Power supply
The PC/104+ card stack is powered by the model 207 power supply. Input voltages may be from 9 to 36 VDC. The unit can supply 5 and &plusmn12 volts to external devices.
Specifications
Video
Number of video channels
4 composite or 1 S-video and 2 composite
Video formats
NTSC and PAL
JPEG compression
Programmable file size determines ratio
D1 image capture rate
2 frames/second including compression
D1 image file sizes
20 to 80 KB (for JPEG)
900 KB (for bitmap)
Communication
Ethernet port
10/100 BaseT
Digital I/Os
3
CPU
Operating system
Linux with 2.4 kernel
Media for image storage
SDRAM, CompactFlash, hard drive
Power and Environmental
Power supply input voltage range
9 to 34 VDC
Power supply input current
250 mA without hard drive or CompactFlash
Operating temperature range
0 to 70 °C
Pricing & Ordering