USB compatible 8-channel sensor interface | Model 2218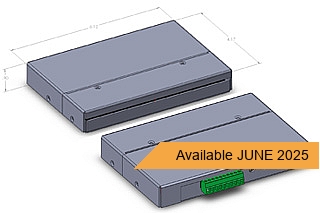 Measures thermocouples, RTDs, strain gauges, thermistors, voltage and resistance
Provides complete sensor signal conditioning
High-accuracy differential inputs
Excellent 50/60 Hz rejection
Pulsed excitation minimizes sensor self-heating
4-wire circuits eliminate lead-loss errors
Isothermal connectors for high thermocouple accuracy
Powered by USB
Description
Model 2218 is a USB-compatible module that interfaces eight sensors to a host computer. It provides excitation for passive sensors and complete signal conditioning for thermocouples, RTDs, thermistors, and strain and pressure gauges. Each channel can be independently configured to measure voltage, resistance, or any supported sensor type. In addition, eight independent digital I/O lines (3.3 V logic) are available for general-purpose use. All GPIOs support edge detection, programmable direction and software-configurable pull-up/pull-down control. The module is USB-powered; no external power supply is required.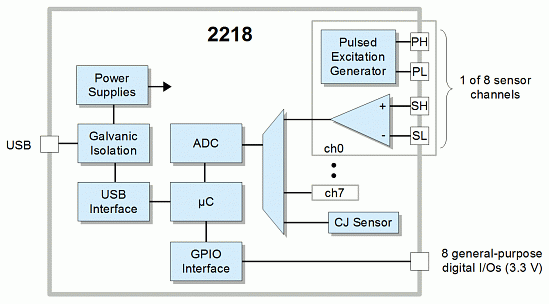 The module automatically scans the eight sensor channels and produces up to five samples/second per channel. When scanned, a sensor is excited, cold-junction compensated, amplified, digitized, and linearized as required by the sensor type. Samples are automatically converted to appropriate engineering units (e.g., °C, Ω, and V) and sent over USB at a programmable rate so that the host computer never needs to initiate or wait for data conversion.
Smart excitation
Sensoray's exclusive pulsed excitation system provides the ideal stimulus for passive sensors. Excitation is applied only when measuring, thus reducing both sensor self-heating and overall module power consumption. The excitation type and level is automatically reconfigured, on-the-fly, for each channel to optimize sensor stimulation.
Lossless measurement
Each channel has provision for a four-wire connection, enabling it to completely eliminate lead loss errors from RTD, thermistor, and resistor measurements.
Accurate thermocouples
The module eliminates several common sources of thermocouple measurement error. Its novel internal design eliminates module-induced thermal gradients, and a removable cover is provided to insulate thermocouple cold junctions from disruptive thermal transients.
Calibration
Fully electronic calibration is used to ensure rock-solid performance in high-vibration environments. Factory-programmed calibration data is stored in the module to enable quick and easy installation.
Sensor Connections
Robust, removable screw terminal blocks are provided for all field wire connections. Analog signals connect to a cluster of four terminal blocks along one side of the module; digital signals connect to a single terminal block on the opposite side.
Specifications
Sensor channels
Number of channels
8
Interface
4-wire (2 excitation, 2 analog input)
Input voltage range
Normal operation: ±5 V
Absolute max: ±20 V
Scan rate (per channel)
Up to 5 samples/s
Input impedance
1000 MΩ
CMRR
78 db @ 0-60 Hz, min
CMV range
±5V
Supported sensors
Thermocouple
J, K, T, S, E, B, N, C, R
RTD
Pt 100 α = 385
Pt 100 α = 392
Ni 200 α = 1.098
Ni 1000 α = 4.4
Cu 10 α = 0.039
Thermistor
10 KΩ types 44006 / 44031
Strain gage
120 Ω min
Voltage ranges
±5 V
±500 mV
±100 mV
Resistance ranges
0 to 400 Ω
0 to 4 KΩ
0 to 600 KΩ
Digital I/Os
Number of I/Os
8
Interface
3.3 V CMOS logic
Programmable functions
Edge detection, direction, pull-up/down configuration
System
Interface
USB 2.0 high-speed
Input power
USB powered, 1.75 W (350 mA @ 5 VDC)
Operating temperature
0 to 70 °C
Storage temperature
-25 to 85 °C
Pricing & Ordering